The first year of issue for the American Arts Commemorative Series included a one ounce gold medallion honoring painter Grant Wood. He is best known for his paintings focused on the rural American Midwest and is associated with the American movement of Regionalism.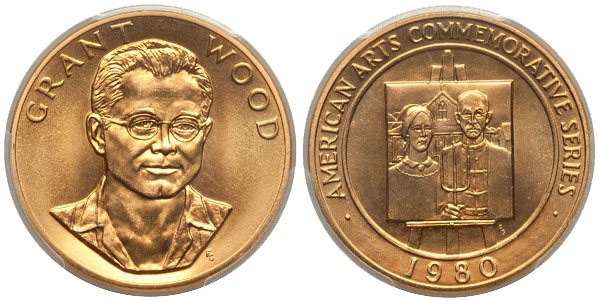 The obverse design of the medallion features a front-facing portrait of Grant Wood wearing his glasses and dressed in an open collared shirt. On the reverse of the coin is an image of his most famous painting American Gothic, which depicts a farmer with a pitchfork and his daughter standing in front of their house. The painting appears on an easel. The obverse carries the inscription "GRANT WOODS", while the reverse carries the inscription "AMERICAN ARTS COMMENMORATIVE SERIES" and the date "1980".
The 1980 Grant Wood American Arts Gold Medallion (Buy on eBay) represented one of the inaugural issues of the series. The medallions were struck in a composition of 90% gold and 10% copper with a plain edge. There was no notation of the gold content or issuing authority included on the pieces, a flaw that would be rectified later in the series.
From a mintage of 500,000 pieces, total sales reached 312,709 pieces. Although other issues of the series would experience higher sales, these issues would also experience a much heavier attrition rate due to melting. As such, the Grant Wood American Arts Medallion is typically the most common and available issue of the series.
1980 Grant Wood Gold Medallion Specifications
Designer: Frank Gasparro
Mint: West Point Bullion Depository (no mint mark)
Mintage: 500,000
Sales: 312,709
Composition: 90% gold, 10% copper
Weight: 34.60 grams
Diameter: 32 mm
Thickness: 2.95 mm
Edge: Plain
Image: Heritage Auctions