Architect and designer Frank Lloyd Wright was honored on the one-half ounce gold medallion released for the third year of the American Arts Commemorative Series. Wright believed in designing structures in harmony with humanity and the environment, which he referred to as organic architecture. During his career, he designed more than 1,000 structures and was recognized by the American Institute of Architects as the greatest American architect of all time.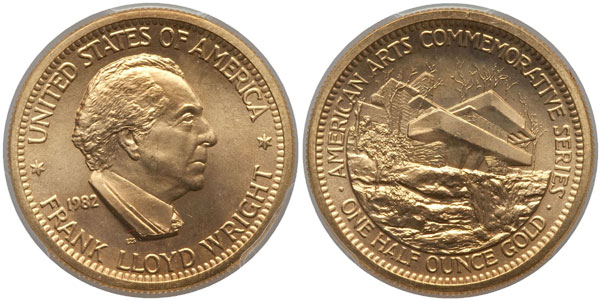 The obverse design of the medallion carries a profile portrait of the architect with an intense expression on his face. The reverse design carries an image of one of his most famous structures, Fallingwater in Mill Run, Pennsylvania. Following the architect's desire to place the inhabitants in a natural setting, the building was constructed over a 30-foot waterfall.
The inscriptions on the obverse include "UNITED STATES OF AMERICA", "FRANK LLOYD WRIGHT", and "1982". The reverse includes "AMERICAN ARTS COMMEMORATIVE SERIES" and "ONE OUNCE GOLD". Following changes mandated by the Treasury Department, beginning this year the inscriptions included the name of the issuing authority and the precious metal weight, which had not appeared on earlier issues. The pieces also saw the addition of denticles and a reeded edge.
The mintage of the 1982 Frank Lloyd Wright American Arts Gold Medallion (Buy on eBay) was 360,000 pieces, with total sales reaching 348,305. The relatively higher sales for the year were not a result of increased demand, but rather a change in the distribution procedures. A private firm J. Aron & Company had committed to minimum purchase guarantees in order to secure the rights for distribution. Ultimately, they were only able to sell about 15% of the medallions to the public, with the balance rumored to have been melted.
1982 Frank Lloyd Wright Gold Medallion Specifications
Designer: Edgar Z. Steever
Mint: West Point Bullion Depository (no mint mark)
Mintage: 360,000
Sales: 348,305
Composition: 90% gold, 7% copper, 3% silver
Weight: 15.55 grams
Diameter: 27 mm
Thickness: 2 mm
Edge: Reeded
Image: Heritage Auctions

< Willa Cather | Louis Armstrong >