The American Arts Commemorative Series entered its fourth year with a one ounce gold medallion featuring poet Robert Frost. He is well known for his works containing realistic depictions of rural life and American colloquial speech. During his lifetime, he received four Pulitzer Prizes for Poetry and a Congressional Gold Medal.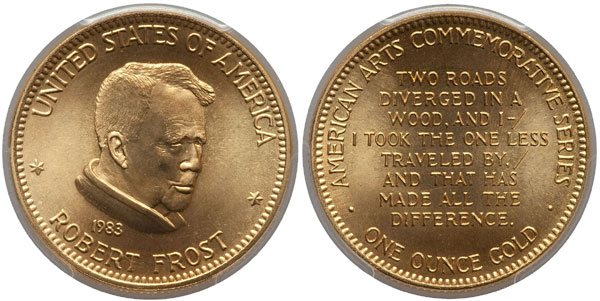 The obverse design of the 1983 Robert Frost American Arts Gold Medallion (Buy on eBay) features a right facing three-quarters profile portrait of Frost. The image is based on a photograph taken on the poet's 85th birthday, which conveys his wisdom and reflection. The reverse design features three lines from his most famous poem "THE ROAD NOT TAKEN". These lines read "TWO ROADS DIVERGED IN A WOOD, AND I – / I TOOK THE ONE LESS TRAVELD BY, / AND THAT HAS MADE ALL THE DIFFERENCE."
The obverse contains the inscriptions "UNITED STATES OF AMERICA", "ROBERT FROST", and the date "1983". The reverse contains the additional inscriptions "AMERICAN ARTS COMMEMORATIVE SERIES" and "ONE OUNCE GOLD".
The reported mintage for the Robert Frost American Arts Gold Medallion was 500,000 pieces, matching the series high for a one ounce medallion. From this amount 390,669 pieces were reported as sold, however, this figure does not reflect the true public demand. Rather this amount reflects the sales to the distributor for the program J. Aron & Company, who ultimately is estimated to have sold about 15% of their purchases to the public with the balance ultimately melted. Thus, the surviving population of the medals is considerably lower than the publicly reported mintage and sales figures suggest.
1983 Robert Frost Gold Medallion Specifications
Designer: Philip E. Fowler
Mint: West Point Bullion Depository (no mint mark)
Mintage: 500,000
Sales: 390,669
Composition: 90% gold, 7% copper, 3% silver
Weight: 34.60 grams
Diameter: 32 mm
Thickness: 2.95 mm
Edge: Reeded
Image: Heritage Auctions

< Alexander Calder | Helen Hayes >