Along with a one ounce piece honoring painter Grant Wood, the inaugural year for the American Arts Commemorative Series also included a one-half ounce piece honoring contralto singer Marian Anderson. She is recognized as one of the most celebrated singers of the twentieth century, performing concerts and recitals in major music venues as well as with famous orchestras throughout the United States and Europe.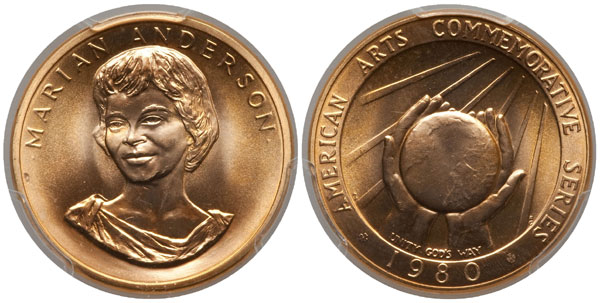 The obverse design of the medal features a three-quarters portrait of the singer, smiling gracefully and draped in elegant clothing. The reverse was based on the design of the Congressional Gold Medal awarded to Anderson. It features a pair of open hands holding a globe with rays streaming down in the background. The obverse inscription reads "MARIAN ANDERSON" and the reverse inscriptions include "AMERICAN ARTS COMMEMORATIVE SERIES", "UNITY GOD'S WAY", and the date "1980".
As with the other issues from the initial years of the series, the medals made no indication of the precious metal content or weight (or even the word gold). Also, there was no indication that the medals were officially issued by the United States government.
The original mintage for the 1980 Marian Anderson American Arts Gold Medallion (Buy on eBay) was 1,000,000 pieces, representing the highest figure of the series. Sales of the medal, however, reached only 281,624, despite numerous marketing efforts and strategies employed during the period of sales. Along with the medal honoring Grant Wood, this is one of the most common and readily available issues of the series.
1980 Marian Anderson Gold Medallion Specifications
Designer: Frank Gasparro
Mint: West Point Bullion Depository (no mint mark)
Mintage: 1,000,000
Sales: 281,624
Composition: 90% gold, 10% copper
Weight: 15.55 grams
Diameter: 27 mm
Thickness: 2 mm
Edge: Plain
Image: Heritage Auctions

< Grant Wood | Mark Twain >